Starting at £7,100.00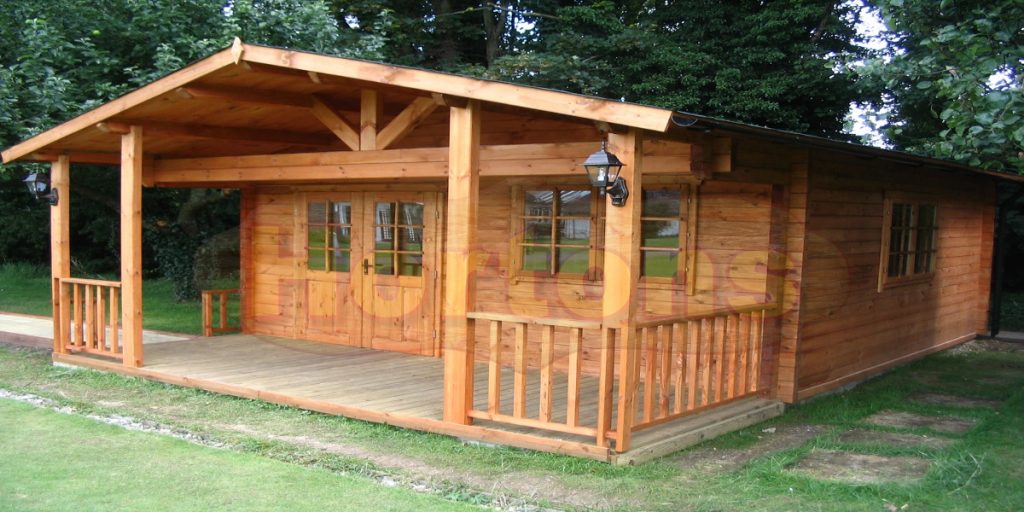 Log cabin with large veranda – it's easy to see why the Surrey cabin has achieved such levels of popularity. This is undoubtedly one of the most striking designs that we have available. A real eye-catcher, the cabin has a ranch-style deep veranda and a truss canopy over the top.
A large cabin with 5m x 5m of interior space (extending to 5m x 6.8m when you include the veranda and roof canopy) you can have virtually anything you want inside the Surrey. It's perfect as a relaxation space with ample room for tables and chairs. Alternatively you could use the cabin as a DIY area or even as your personal office.
The Surrey is everything in one – a log cabin with large veranda. The veranda area is big enough to act as it's own gazebo area. You could say that it is 2 garden buildings in one. Not forgetting that you can personalise it to your own requirements. We offer factory painting as well which offers a huge range of colours (all RAL colours) and log profiles (from 28mm single skin right up to 70+70mmTwin Skin).
Get in contact with us today and a member of the team will be happy to discuss the range of options with you.
Prices start at £7,100.00 and will vary depending on your options.
Contact us today for a full quote
OR
Click here to generate your online quote (NB – this will open a new tab for our master website, hortonsgroup.com)