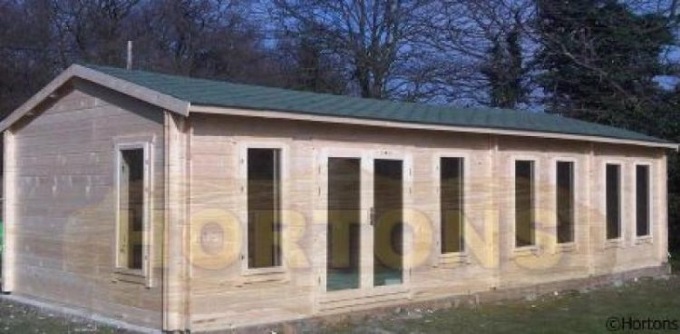 If you're looking for a very large conservatory or sunroom that is not connected to your house, the Peterborough cabin could be the answer. The large size of 3.5m x 10.5m means that you'll have a great deal of interior space but there are also additional benefits. This is a far more economic option than a brick built structure or one that makes use of uPVC – it is also far better looking and you can customise the appearance to suit your requirements.
This is one large room with two internal archways to ensure strength. It can be used for virtually any purpose – whether you would enjoy a big relaxation space in your garden or you're creating a 'man cave' for DIY, gaming or other hobbies. The fully-glazed double entrance doors and large windows allow in lots of light, making it perfect no matter what you plan to use it for.
You can even personalise the appearance with a range of options to suit the aesthetic of your house and garden. It can be built with the main doors at either end from the same cabin kit. If you are interested in buying the Peterborough or you would simply like to gather more information about the range of options available to you, please get in touch with us today. Our expert team has many years of experience providing advice and guidance, so we are always more than happy to help.